Disneyland This Side of Childhood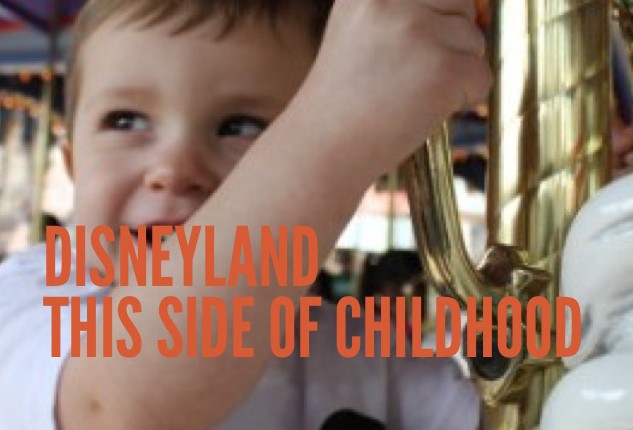 I am not a big fireworks person. The Fourth of July is a great tribute and all but I just might be the one in the audience shouting, "grand finale" the first time two fireworks happen to linger in the air at the same time. Others around me might politely whisper, "I don't think that was it," like this was my first Fourth of July or something. Also, on a certain reality show where a guy decides the fate of women by handing out roses, there is always a first date that ends with a rose and fireworks. If I were to watch a show like that, I might at that point, be pacing and yelling at the tv, "oh, come on!" That is, only IF I were to watch such a show, of course.
Let me paint you a little reality picture of a regular guy trying to recreate the 'fireworks' first date.
You agree to go a a date with handsome guy you barely know. You notice he brought you a rose! Only strangely, he doesn't give it to you. He whisks you away in rental car because he can't aford a helicopter but clearly riding in the vehicle he actually owns isn't 'reality' enough. You notice someone is in the backseat with a cell phone camera taping everything. You try to make some normal small talk but he keeps asking you if you can see yourself engaged at the end of this. He tells you he feels like he already knows you but in the interest of time, encourages a confession of any tearful childhood tragedy you may have been through. Toward the end of the date he presents you the rose, contingent on the fact that you will go out with him again (ie marry him, unless there comes a time when he doesn't give you a rose because he wants to marry someone else). If you accept the rose (beside yourself with excitement, of course), he will take you triumphantly to the top of a parking garage or some other cliffy place to 'show you something.' There he will cue his friend and camera man to light off some firecrackers while he tries to kiss you, noting the obvious spark you share.
(The events depicted above are the result of an overactive imagination and not an actual experience. My guy is much smoother than all that. We didn't even have cell phones or many reality shows when we started dating.)
So you see, fireworks don't do much for me. That's why I was shocked to find myself teary eyed while watching the fireworks show at Disneyland a while back. There is just something about Disneyland. Childhood movie memories set to music after a full day of making my own new memories with my children. I was kind of a wreck. I guess I drank the Disney KoolAid (But not as much the Bachelor Reality show KoolAid, owned by Disney....Ok I watch it sometimes, but only to scoff, mock, and revel in drama that's not my own. Try not to judge.)
Some have suggested that I wait until my children are older to take them to Disneyland. They say the kids won't remember any of it. Here's the thing with all that, I will remember. They will have fun but the significance of the day and the memories will stick with me. Here is a revelation: Your child's childhood isn't all about them.
Somehow walking through childhood along side my own children recaptures something of my own childhood for me. Enjoy childhood again.
You don't have to go to Disneyland to do this, but feel free to. Take your baby to story time and hear a read aloud done by the librarian. Your baby won't get it, but you will. You can enjoy it. Recapture the wonder of being small. Embrace small. You are still so small. Stand by an ocean and you remember. Go to Yosemite and the proof is there. We aren't so big. Let yourself get carried away in the fun of being small sometimes. And do it now, while you remember.  Go ahead and drink some Disney KoolAid once and awhile. It's not just for them.
Thanks for reading.
Always,
Amie
Do you have any love for Toddle Spots? Don't go away. Like the Facebook page. Follow on Twitter, Instagram, and Pinterest.
More importantly join the email list here, on the sidebar, or scroll to the bottom if you are on mobile. For joining the email list, you will receive my very favorite, perfected, chocolate chip cookie recipe. You will also gain access to content that isn't on the website. That's right, you become my VIP. Hugs!